Health & Wellness
We are here to ensure the safety of our students and provide the best support.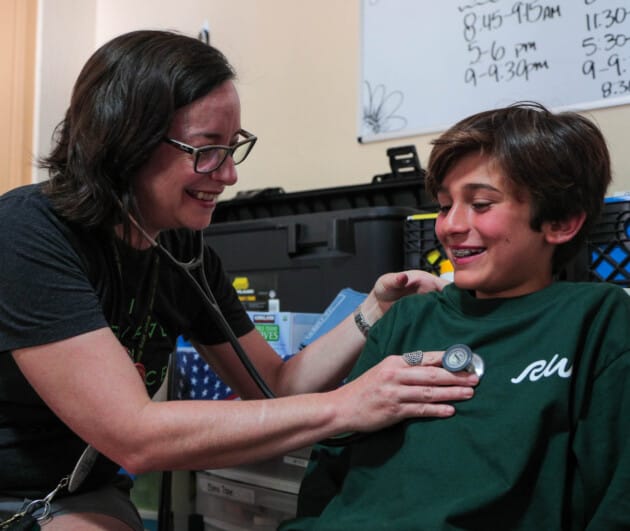 Our 24/7 On-site Health Center & Nurse
Our on-site health center is accessible 24/7 for all overnight outdoor education programs and staffed by a licensed nurse. Having a health center and nurse on-site allows us to act quickly to health-related issues and fully support all of our students and their teachers/chaperones. A licensed nurse dispenses all prescription and over-the-counter medications should your student take medication or supplements.
If your student has medication or health needs that need to be monitored, we are equipped to help. Let us know in advance of the trip, and our staff will work with the nurse to make sure your student gets the care that they need throughout their stay.
COVID-19 Statement
To meet the challenges and expectations presented by COVID-19, we've been following the lead of the schools on elevated health and safety measures. We keep up to date on our practices and mimic schools in our area on mask policies, cleaning routines, and more. We are also lucky to have a 75 acre facility that allows us to utilize a plethora of outdoor space for our classes, which positions us to better help prevent the spread of illness.
We also recommend that chaperones encourage their students to wash their hands often. When we have multiple schools on the property, we assign each school their own section of the dining area during meal times. Students also travel to classes in their cabin groups. This helps to keep exposure to other students low.
If you want to learn more about what we are currently doing in response to COVID-19, we're happy to answer any of your questions either by phone or through our contact page.
General Hygiene Practices
We employ a full-time, year-round housekeeping team that is responsible for cleaning and sanitizing all public areas frequently. Our housekeeping team is also responsible for cleaning and sanitizing sleeping accommodations before arrival and after departure.